The purpose of this post is to compare the 3 Top 10 prospects in the 2011 class (Kyrie Irving, Derrick Williams, Alec Burks) to players who currently hold court in the NBA.  I provide the best- and worst-case scenarios for the players and how that scenario could come true.
*Note that when I give an NBA player comparison, I'm taking into account the size, attributes, and style into account.    
Kyrie Irving
6'3" 185 lbs.  PG, Duke
Best Case:  The best-case scenario for a consensus #1 pick like Irving, definitely involves him turning into a superstar.  Irving has the potential to grow into the player that Deron Williams is, using his above-average PG size, athleticsim, and long-range shooting to put up a consistent 20+ ppg, and the vision to dish out assists and make his teammates better. 
Worst Case:  The only thing that could hold Irving back from greatness is something that keeps him off of the court.  I'm referring to injuries.  We all know he missed most of his collegiate season with a foot injury, and he has been said to have had knee issues a while back in his high school days.  So we'll call his worst case scenario Jay Williams.
But playing the game of assuming he doesn't get injured, Irving at his worst would be a similar player to Lou Williams (whose stats would be better if he played more than 23.3 mins pg).
Most Likely Case:  He has some minor injuries that keep him for playing 82-game regular seasons, but he should probably stay away from the bad ones and be the All-star point guard we all expect him to be.  I can't make a direct comparison because I don't feel there is any player in the league who fits it, but he will most likely be a slightly better version of Devin Harris or like Monta Ellis who passes more.
Derrick Williams
6'9" 248.  PF Arizona
Best Case:   He lives up to expectations plus some, and grows into an Amare Stoudemire-like player.  By that I mean the inside-out play, where he can put the moves on in the post, and then stretch the court with 15-20 foot jumpers at a high rate.  Also that inner "nastiness" to throw it down and make a poster out of someone.  Stoudemire is an inch taller and a hair more athletic I think, but Williams has the potential to be an Amare-like player.
Worst Case:  If he can stay healthy for the most part, I think the worst case scenario for Williams is a player with the same last name:  Marvin Williams.  I think that is how Derrick will turn out if a team plays him as a combo forward rather than just a Power Forward.  This could also happen if he floats to the perimeter too often, something that Michael Beasley did, and now he's considered a bust unless he turns things around.
Most Likely Case:  I could see Williams becoming an unstoppable force on the offensive end (a la Amare Stoudemire), and I could also see him float to the perimeter too often and turn into a combo forward like Marvin or Beasley.  So for now, I'll split the difference and say Paul Millsap (whom you probably don't know much about how he plays).  
Alec Burks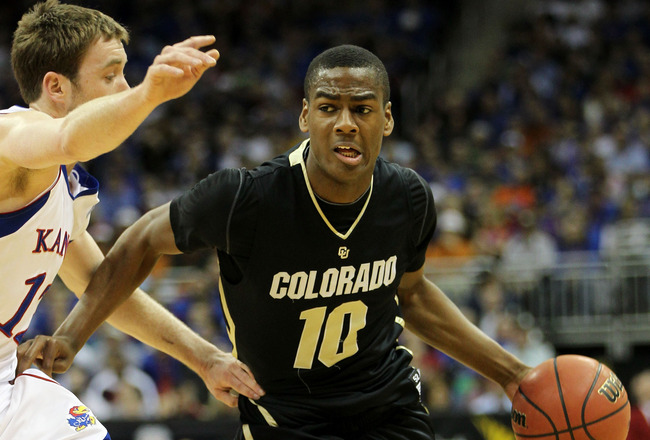 6'6" 191 lbs.  G Colorado
Best Case:  Burks has some similarities to Russell Westbrook, especially coming into the league.  Burks is a combo guard, who may make the switch to PG at the Pro Level (like Westbrook did) or play SG which seems more likely.  Burks has the elite athleticism that comes close to Westbrook's, and scores by attacking the rim and his midrange jumper.  Not a 3-pt shooter, but the outside shot should develop in time.  If he plays mostly SG in the NBA, his best case could be comparable to a poor man's Dwyane Wade.
Worst Case:  Burks will almost certainly suceed in the NBA, but he does have some bust potential as does every other prospect.  He will have to adjust to having to score around much bigger players, and he will have to improve his outside shot.  Even if Burks doesn't pan out, I think the worst-case scenario is a player like Shannon Brown.
Most Likely Case:  Burks probably won't ever reach the level of Russell Westbrook or Dwyane Wade, but it's still possible.  And he will probably be better than Shannon Brown, but it's still possible that he isn't.  Anyways, Burks looks like he's most likely headed towards the Wesley Matthews mold (assuming his shot improves).

You can watch Burks in action vs Kansas State with ESPN3.com Replay.  I hadn't seen him play so I watched part of the game, and in only the beginning of the 1st half you can see Burks' abilities.  You can also fin games of Williams and Irving.
Thanks for reading.