From the FanPosts! -- Scott
Rookies are rookies.  They enter the league without any previous experience, and often have a difficult time making the adjustment.  But every year, there are a handful of rookies who make a significant impact in their first season, and others to help take their team to far places.  There are always surprises, some good, some bad. 
This article embraces the possibilites, how a seemingly forgotten player in the 2nd round can make an impact as a rookie.  It's easy to say that Kyrie Irving, or Jimmer Fredette will be solid as rookies.  Is it as easy to say that for a Late-1st Rounder or a 2nd-rounder?
#27.  JaJaun Johnson F/C Boston Celtics (from NJ)
The reigning BIG 10 Player of the Year will have no excuses if he doesn't get playing time.  The Celtics core front line from last season will be almost completely gone.  Shaq already retired, and won't pull a Brett Favre.  Jermaine O'Neal and Garnett are also possibilties to retire, and even if they stick around, don't expect them to be healthy very often, and expect them both to regress in their all-around games.
On top of that, Glen Davis is going to be a FA who could be overpaid and pulled out of Boston.  Troy Murphy is 31 years old, and gone, as well.  And recent news says Nenad Kristic will be going to play overseas.  That just leaves Johnson, and Jeff Green, who is a RFA and will almost certainly be resigned, but also is a combo forward.
If you haven't realized it by now, the Celtics' frontcourt next season will be completely depleted, with some past-their-time oldies still on the roster.  Johnson will get plenty of playing time, 25-30 MPG, and will produce solid numbers in those minutes, 10-14 PPG, 5-7 RPG.
#28.  Norris Cole G Miami Heat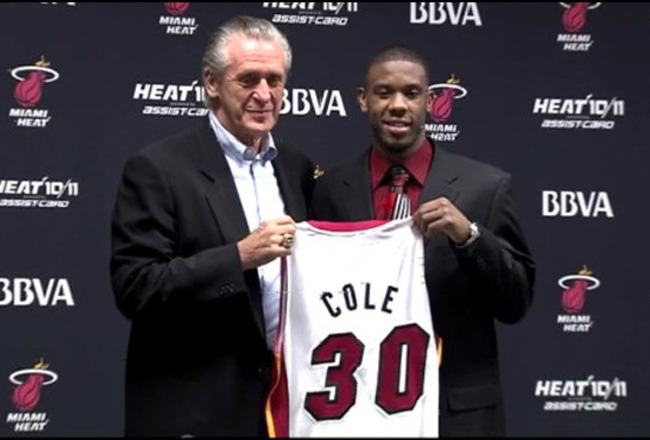 The Heat put together the Big 3, with very little money to fill out the remainder of the roster with solid, young role players.  Instead they opt to try to do that through the NBA Draft.  Cole ran the show last year at Cleveland State, but things will be different in Miami.  Cole will be doing alot of spot-up shooting, as well a facilitating to Wade, James, and Bosh.
Cole won't have a perfecly smooth transition, since he won't be great as a spot-up shooter.  But the Heat will certainly benefit from having another player who can put the ball on the floor and actually make a play.  I expect him to do enough to be a part of the rotation, battling with Mario Chalmers for minutes.  Chalmers will get the starting gig despite Cole being more of a true PG, but expect Cole to play 20-25 minutes per game, with averages around 6-10 PPG and 2-4 APG.  That won't be in contention for Rookie of the Year, but that will help the Heat win their first title with the Miami Thrice.
#45.  Josh Harrellson F/C New York Knicks (From NO)
The Knicks were owned on the boards late in the season, mainly in the playoff series vs Boston.  Granted, Amare was injured for part of the series, but even when he was there, they just didn't get enough rebounding or defense from the fellow Big Men.  Jared Jeffries did what he could, but it wasn't enough.  Here, the Knicks get help at a position of need, and in the middle of the 2nd round.
Harrellson will provide strong rebounding, defense, and even some interior scoring on put-backs and such.   The chances are the Knicks resign Turiaf, or sign a different Center, and maybe another big man, and Harrellson is a 8th or 9th man as a rookie.  Assuming that happens, Harrellson could still be in for a productive rookie season.  15-20 mins, 4-6 PPG, 5-7 RPG, is my projection for Harrellson in '11-'12.
I don't think he will be the answer for the Knicks' problems.  He's actually a hair short of 6'10" and is a bit below average athletically, while not having truly sound offensive skills.  But he works so hard and is so relentless on both ends, that he will be a help, and will certainly get playing time considering how weak the Knicks are up front.
#53.  DeAndre Liggins G Orlando Magic
Liggins is in a good situation in Orlando right now.  They will undoubtedly (in my mind) let Jason Richardson walk in free agency.  That just leaves J.J. Redick at SG on the Magic roster.  The Magic could sign another wing, but would more likely go for a big move like getting Chris Paul, trading away Dwight Howard, or else do nothing at all.  I assume the magic will stand pat in this situation, not signing any FAs or anything (especially since the FA period could be obstructed due to the lockout).  That would leave Liggins battling with Redick for playing time.  Redick would start, but Liggins would get plenty of minutes in that situation.
Liggins is a good fit for what the Magic need:  a versatile perimeter defender, who can also spot-up shoot (since they have Dwight Howard and he gets double teamed).  Liggins fits the bill, and would be a defensive tone-setter and make some 3-pt shots as a rookie, and help his team get the 3rd or 4th seed for like the 3rd season in a row and make it to the 2nd round again.  Prediction:  15-20 mins, 5-7 PPG, 2-3 RPG, 1-2 APG, solid defense.
Thanks for reading