What's up RU?  I haven't posted in over a month, I just got home from a family vacation in North Carolina. 
Anyways, I thought I would do a write-up on some of the top Big Ten prospects, because those are the guys I know best.  I'm a Wisconsin fan, so I get to see alot of these guys in live action on Big Ten Network or even ESPN (Ohio State is always on).
Jared Sullinger So. Ohio State




PF/C.  6'9" 275 lbs.

Notable Stats: 17.2 PPG, 10.2 RPG, 54% FG
Positives:
Sullinger is a very big kid.  He is about 270-280 lbs, and he uses those pounds to his advantage inside.  He's so tough to stop in the paint; he uses his butt to clear space.  He also has pretty good touch inside, usually making the first attempt.  He draws alot of fouls down low, and makes a respectable 70% FT.  He's not completely limited to the paint; He rarely takes jumpshots but when he does he's not bad, he made 3 of 12 from downtown last season and made a few midrangers.
Negatives:
The biggest issue for Sullinger could be his height.  He doesn't scrape 6'10", he's pretty much a legit 6'9", but for an NBA Center that's slightly underheight.  The second issue is his conditioning.  It didn't appear to be bad last year, as he played most of the games I watched as well as 32 mpg, but the NBA is different.  In the NBA there is more run-and-gunning and the game is longer.  He might have to get his weight down a bit.
People will also question his ability to make an impact on defense.  He only average 0.5 blocks per game last season, a very low rate for a PF/C
Verdict:
Sullinger is a sure Top 10 prospect who could move into the Top 5.  He is a beast inside, scoring at a high rate in the paint and getting to the line (where he makes 70%).  It's not too rare that he steps out and hits a midrange shot.  He's also a big rebounder at 10.2 per.  To be a lock for the Top 5, he will have to improve his body composition by cutting some weight, and he will have to show he can be a factor on the defensive end by blocking some shots.  Some scouts will look at his height as a yellow flag, but everyone sees how Kevin Love worked out.

William Buford Sr. Ohio State




SG/SF.  6'5" 205 lbs.
Notable Stats: 14.4 PPG, 44.2% 3-pt, 3.9 rpg

Positives:
Buford is a smooth 2/3 player with a relatively high ceiling.  He has a jumpshot that extends to the 3-pt line and a bit farther.  He shot 44% from 3-pt range last season and made a total of 61.  He also has the athleticism and size to get off his midranger, and it comes off very smooth and goes in at a high rate. 
Buford's size allows him to be a help in rebounding from the guard spot, averaging 4 per game last season and 5.6 rpg as a Sophmore.  He is a solid on-ball defender, who can occasionally get in a block in the paint to prevent a score, or steal a pass and get into a fastbreak situation (where he's very good).
Negatives:
Buford doesn't have great ball handling skills or any point guard skills.  NBA teams want a 2-guard to be able to handle it smoothly and run the point sometimes.  He will have to make those improvements.  Buford's skillset may be more suited for a 3, although his size suggest he's a 2.  Speaking of size, he has good height and length but needs to add some beef to his frame.
Although Buford has put up solid numbers in his days at OSU, he just doesn't seem like he maximized his potential despite spending 3 seasons there already.  He has shown the ability to score in spurts, but too often disappears and never really carries the team.  Buford hasn't made significant improvements either.  He can rise his stock if he makes the improvements and maximized his potential as a Senior.
The Verdict:
Buford is a solid 2-guard prospect with plenty to like, along with some yellow flags.  He has shown the ability to stroke it from 3 and score in spurts.  But it seems like he could be better than he is and he too often disappears from the offense.  I remember watching a particular game at Wisconsin where he was on fire in the first half with like 19 points.  He ended up only scoring 2 points in the second half, and provided absolutely no offense down the stretch.  Buford can still be a decent scorer in the NBA as he can stretch the floor with his shooting as well as drive, but he won't be able to be a go-to scorer at the next level.
His scoring ability and prototypical size and length make him a solid 1st round lock.  He will most likely be taken in the 20s unless he changes things with a bad or good year.  He could make himself a late-lottery prospect if he adds some more muscle to his frame and scores more consistently.
Jordan Taylor Sr. Wisconsin
PG.  6'1" 195 lbs.
Notable Stats:  18.1 PPG, 4.7 APG, 3.83 A/TO, 43% 3-pt
Positives:
Taylor is as true of a point guard as they come.  He has very, very sound ball handling skills, and is a great passer.  He posted an great A/TO ratio last season of 3.83 last season, #1 in the Big Ten as well as the entire country.  Taylor is really strong, stronger than alot of PGs so he can use his strength to clear space when he's driving, and keep the ball away from the defender.  His strength also let's him make alot of tough shots.
Taylor can absolutely stroke it from 3-pt range.  A 43% shooter from out there, he made 75 last year including 7-of-8 in one game against Indiana.  He has a high release that allows him to get the shot off at the end of the shot clock with a defender in his face, unbothered.  On the defensive end, he doesn't get alot of steals and virtually no blocks, but he moves his feet well and is good in help defense, earning him a spot on the All Big Ten Defensive Team.
Negatives:
Taylor isn't overly quick or fast, and he could have trouble beating other guards off the dribble in the NBA.  Most of his NBA points will come from the perimeter, not so much in the paint or off the dribble.  He can move his feet well enough to stay in front of quicker guards, but he will get beat in transtion if he's trying to stay with Brandon Jennings or Jrue Holiday in the open floor. 
He's a very NBA-ready player, but he doesn't have much of a ceiling.  There's not much room to improve with Taylor, he's probably maxed out on athleticism and strength already.
The Verdict:
Taylor is a true point guard with the complete skillset, including catch-and-shoot ability with NBA range.  He's a good bet for a team like the Miami Heat, who would just need him to handle the ball, facilitate to the Big 3, and be a spot-up 3-pt shooter.  He's not a good bet for a team that needs their PG to run the fastbreak and penetrate into the paint consistently.
Also, the fact that he doesn't have alot of potential downgrades his draft stock.  Overall, he should be a solid backup PG in the league, and a reliable spot-up shooter.  That will probably lead to his name being called early in the 2nd round, and possibly end of the 1st if he becomes an even better shooter or looks a bit quicker with his first step this season.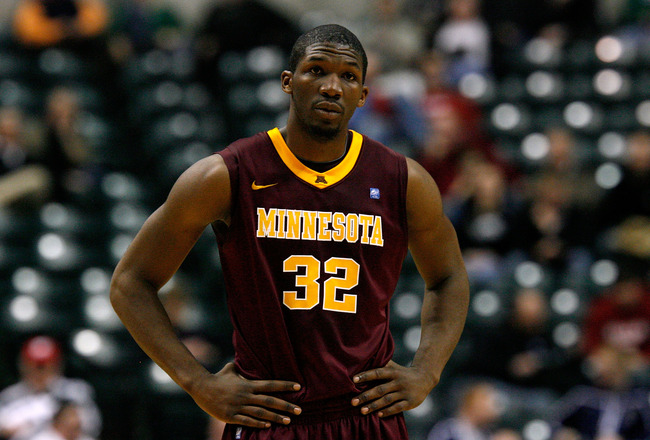 PF.  6'8" 240 lbs.
Notable Stats: 13.9 PPG, 10.5 RPG, 1.5 BLK, 58% FG
Positives:
Trevor Mbakwe is absolutely relentless on the boards.  He grabs them at an extremely high rate of 10.5 per game, despite being only 6'8".  There alot of NBA teams looking for rebounding and toughness off the bench...this guy can bring it.  Mbakwe also uses that strength and toughness to score inside against taller defenders.  He makes quick yet powerful moves inside and goes straight to the rim.
The Minnesota native is a consistent defender, too, and he can be a real difference maker on that side of the floor.  He can move his feet with 3s, and can body up against 4s.  A good attribute of his is the ability to block shots, either against the man he's guarding or from the weakside (1.5 per).
Negatives:
Mbakwe's methods of scoring in college won't work well in the NBA.  He's undersized at 6'8" for a PF, so he will often be guarded by someone 3 inches taller and heavier.  That will make it really tough for Mbakwe to clear space and score inside.  He won't do hardly any scoring at all outside of 12 feet.  He doesn't appear confident in his midrange shot, he seems as if he doesn't want to shoot it, and it shows, as it rarely goes in when he does pull the trigger.  A bad stat...he attempted ZERO 3-pt shots last season.  No range at all on his jumper.
Mbakwe is a huge rebounder at his current level, but at only 6'8" he's smaller than adequate, and will be rebounding with bigger guys, and thus he willl be less effective.  Don't get me wrong; he will still be able to rebound, but will be less effective.  He also will have a hard time guarding 6'11" PFs in the post who have the height advantage.
The Verdict:
Mbawke is a bit like Kenneth Faried, a late 1st round draftee out of Morehead State.  Both undersized as PFs, both great rebounders, neither offensively gifted.  The difference is Faried has slightly more range on his jumper, and slightly more offensive skills to go around like ball handling and passing.  Still, the similarites mean that Mbakwe has to be considered a prospect that teams will look at.  He can give rebounding, defense, and hustle off the bench.  I see him going early-mid 2nd round, and maybe around late-1st if he improves his offensive game this season.
Other prospects include:
Robbie Hummell, Sr., SF, Purdue.  6'7" 208
Tim Hardaway Jr., So., G, Michigan.  6'5" 185
Rodney Williams, Sr., SF, Minnesota.  6'7" 210
Draymond Green, Sr., SF, Michigan State.  6'6" 235
John Shurna, Sr., SF, Northwestern.  6'9" 220
Shannon Scott, Fr., PG, Ohio State.  6'2" 170

Thanks for reading.